Looking after our own wellbeing, as well as the people around us is so important, especially for those who work with children. Here at Kinderly we are driven by providing early years professionals with the support and tools needed to give children in their care the best start in life. That's why we are sponsoring the first-ever EY Matters Conference, Wellbeing For All in Early Years, on Saturday 29th February 2020 at Bath Spa University. 
To buy your ticket, head over to the
EY Matters shop
and enter your discount code at check out 
for £15 off the ticket price!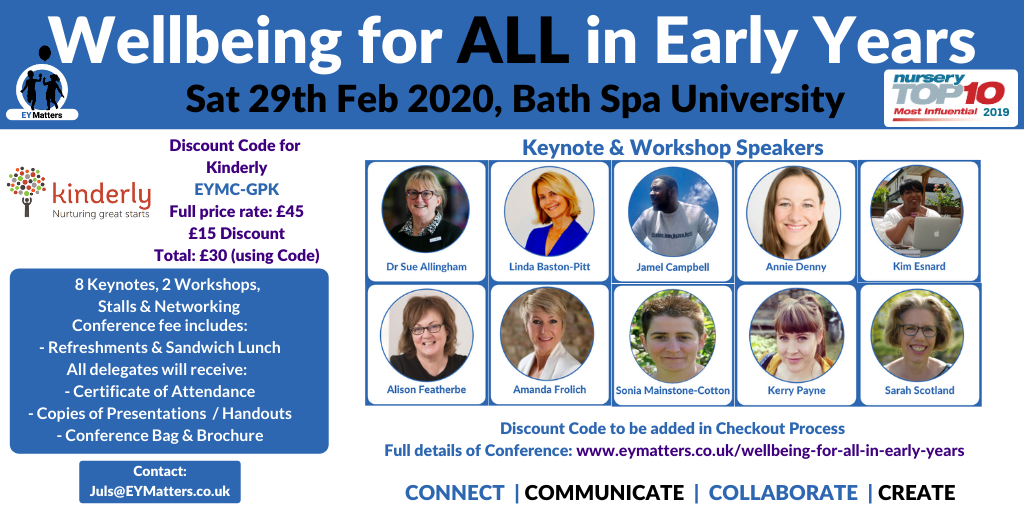 To get you excited we've put together our top 4 reasons why we think you should come to this event:
Learn from top industry experts in one place
From mental health, self-care, physical activity to nutrition, you'll have access to loads of useful tips and insights to incorporate and foster wellbeing in your setting. You'll also be able to meet some Kinderly Collaborators, such as SEND expert Kerry Payne and wellbeing expert Sonia Mainstone-Cotton, who recently shared with us some tips to support children's mental health.
Top up your CPD
Yes, you've heard that right. Attending this conference will count towards your continuing professional development (CPD) hours, and as a busy practitioner, we all know how handy that can be!
Positive impact
Attending this conference will not only help you as an early years practitioner to be equipped with the tools you need to care for yourself but also for those around you, including the children in your care.
Access to Kinderly's free resources
You'll get a chance to meet us face-to-face and see how our award-winning app, Kinderly Together, can help you in running your setting and how Kinderly Learn will support you to keep up to date with your CPD.
How to book
If you are interested in attending the cost is £45, but Kinderly subscribers get  £15 off making the ticket cost only £35.
To buy your ticket, head over to the EY Matters shop and enter your discount code (see flyer above).
Need accommodation?
There is a limited number of special rates for attendees at Travelodge Waterside – next to Bath Spa Station. For further information or questions, please email hello@eymatters.co.uk before 29th Jan 2020.