Want to get up to speed with the revised Early Years Foundation Stage framework which came into force on 1st September 2021? To help you prepare we've put together a dedicated EYFS Hub so that you can access what you need to know at the click of a button.
Introduction
Since 1st September 2021, all early years settings within England are required to follow the revised EYFS framework. This new framework is intended to:
Set the standards that all early years providers must meet to ensure that children learn and develop well
Ensure children are kept healthy and safe
Ensure that children have the knowledge and skills they need to start school
The Department for Education also hope that the new framework will help:
Improve outcomes for all children
Improve the language and literacy outcomes for disadvantaged children
Reduce teacher workload
EYFS – what you need to know
Due to popular demand, we've put together an EYFS webinar collection with recordings from an amazing host of expert speakers – from Birth To 5 Matters' Nancy Stewart to Dr. Sue Allingham!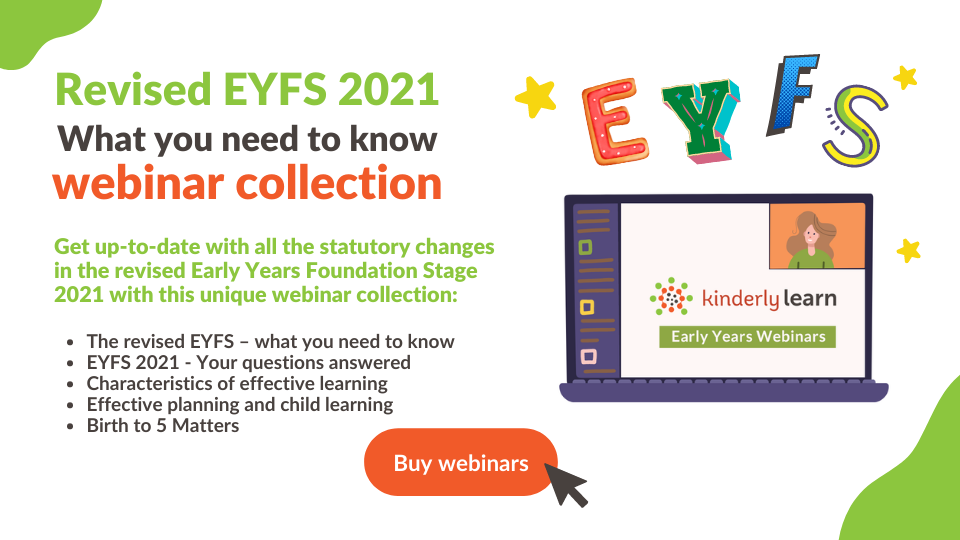 Official documentation
Click on each button to access the official EYFS documentation:
EYFS articles
To help you stay ahead and be ready from September, we've asked our early years experts for easy to understand tips and answers to burning EYFS questions like:
Changes to the Early Years Inspection Handbook 2022: Including key updates for childminders
Upcoming webinars
Please view our early childhood webinar schedule for details.
Become a Kinderly Together member and stay up to date with the latest guidance and thinking in early years.