Why are we discussing self-regulation and executive function?
Self-regulation and executive function are not new terms. However, they are now mentioned within the Early Years Foundation Stage (EYFS) reforms for the very first time. Under the reforms, the seven areas of learning and development remain the same, but early learning goals (ELGs) are changing.
Currently, the personal, social and emotional development (PSED) aspects are:
• Making relationships
• Self-confidence and self-awareness
• Managing feelings and behaviour
In the revised EYFS framework (to be rolled out nationally from September 2021), the PSED early learning goals will change to:
• Self-regulation
• Managing self
• Building relationships.
The DfE has released an early adopter version of the Statutory framework for the early years foundation stage 2021. This might be a useful read – but remember, this is not the final version (only sections 1 and 2 have been updated at this stage for the early adopter schools) and the national roll is not until September 2021. The revised Development Matters document can also be found here.
The revised Development Matters
There are seven key features of effective practice within the revised Development Matters document relating to self-regulation and executive function: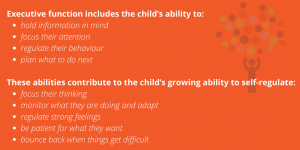 (DfE, 2020a pg 7)
Self-regulation early learning goals
The early adopter Early Years Foundation Stage Statutory Framework sets out the early learning goals for self-regulation: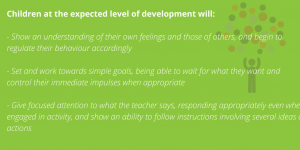 (DfE, 2020b, pg 12)
A contested space
The reforms to the EYFS are currently being piloted by early adopter schools and it is fair to say that some areas of the reforms remain a contested space amongst early years experts. For example, is it fair to measure and assess whether or not a child can self-regulate by the end of their time in reception class?
There are many things that influence self-regulation. Lived experiences, the way in which they are parented, attachment types, sensory processing and adverse childhood experiences, to name but a few. Some children will not meet the self-regulation early learning goal by the end of their time in reception class and some may go on to have long term difficulties recognising and controlling their feelings and/or executive function skills.
We are not born with self-regulation skills
Babies are not born with self-regulations skills – but they are born will the ability to learn. Self-regulation is a process that grows and matures in supporting and nurturing relationships and environments. Early years practitioners and teachers can do a lot to support children to recognise their feelings, find coping strategies and self-regulate.
Learn more about this…
Find out more about self-regulation and executive function in Sue Asquith's book: Self-Regulation Skills in Young Children; Theory and Practical Activities for Practitioners and Parents.
About the author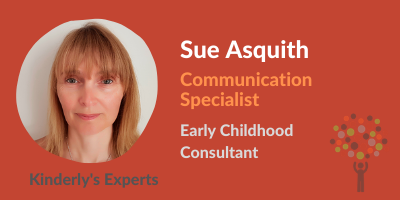 Sue Asquith is an Early Childhood consultant, having worked in the early years sector for over 30 years – as a registered childminder, mentor, trainer and assessor. She is an Early Lead Language Practitioner and has worked with DfE, PACEY, NDNA, ICAN and the Communication Trust delivering a range of programmes, including literacy, communication and SEND.
You can follow Sue on Twitter and/or join Sue's Early Childhood Consultant Facebook Group.

References
DfE (2020a) Development Matters: Non-statutory curriculum guidance for the early years foundation stage.
DfE (2020b) Statutory framework for the early years foundation stage. Setting the standards for learning, development and care for children from birth to five. EYFS reforms early adopter version July 2020.