Calling all superheroes: Developing superhero play in the early years
Wednesday 3rd Feb @ 8:00 pm

-

9:00 pm

FREE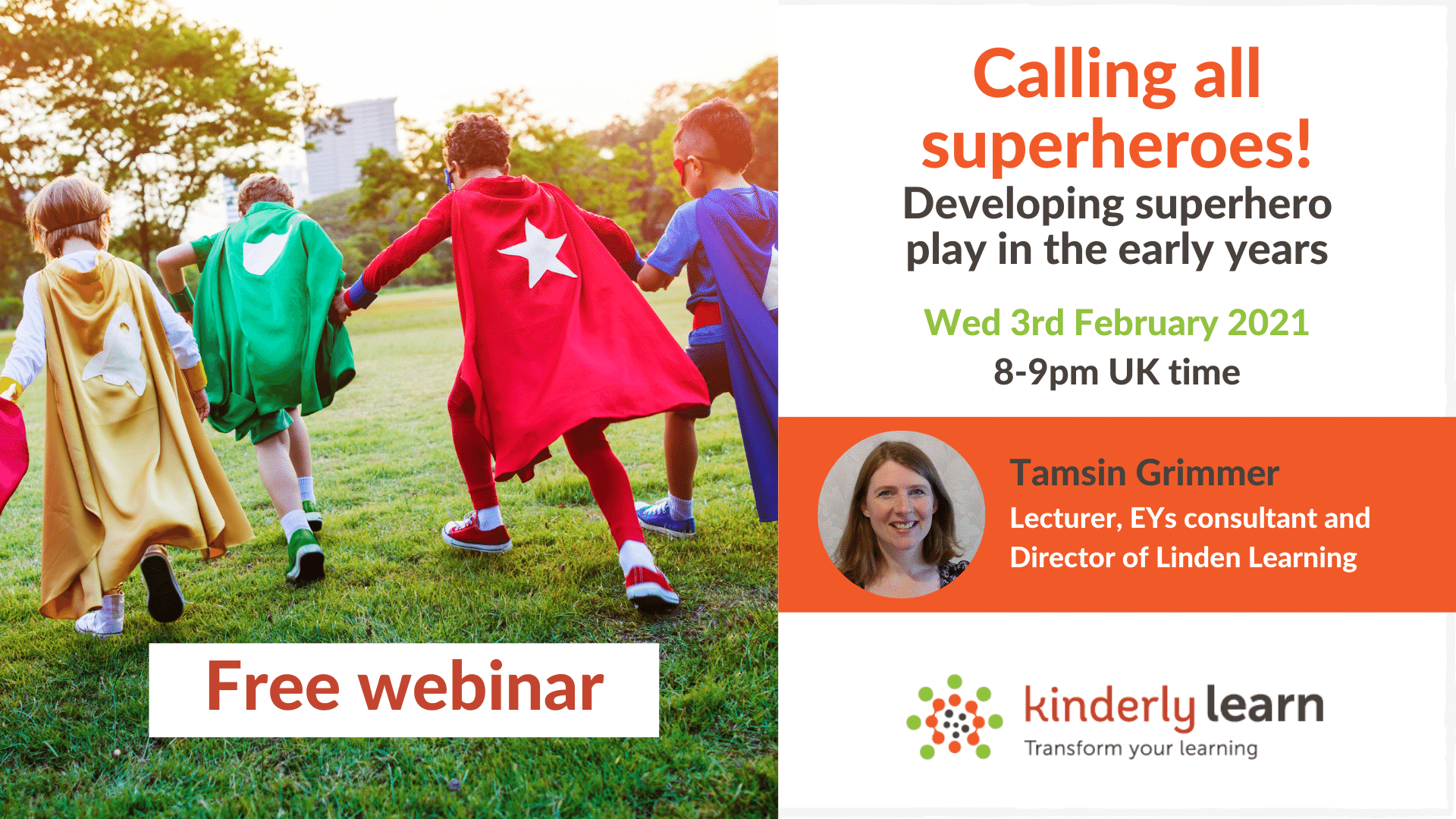 Superheroes are a huge part of popular culture and many children naturally engage in superhero play. However, this type of play is not without its challenges in early years settings. How should we respond appropriately to children playing with weapons, or engaging in rough and tumble play?
In this FREE one-hour webinar, early years expert Tamsin Grimmer will address these difficult issues and explain:
The benefits of superhero play and how you can embrace its many benefits

How to differentiate between aggressive play and violence

How to respond to weapon play

How to instil 'super' qualities in our children through play.
IMPORTANT: After registering with the link below you should receive a ZOOM link in your email account. However, if you do NOT receive your confirmation email within 30 mins of registering please contact the Kinderly support team (via chat on our website) so we can assist you. And remember, after registering to always, always check your spam/junk folders!🧡
About the speaker:
Tamsin Grimmer is an experienced and excellent consultant and trainer, the early years director of Linden Learning and a part-time lecturer at Bath Spa University. Tamsin is passionate about young children's learning and development and is fascinated by how very young children think. She believes that all children deserve practitioners who are inspiring, dynamic, reflective and passionate about teaching them and has a keen interest in the different ways that children learn.
Tamsin is particularly interested in play, active learning, promoting positive behaviour and supporting early language development. She has written three books (Calling All Superheroes, School Readiness and the Characteristics of Effective Learning and Observing and Developing Schematic Behaviour) with a fourth on Developing a Loving Pedagogy due to be published in Spring 2020.