Have you ever felt unsure about how you're doing things?  Perhaps you'd like some reassurance that you're on the right track? Maybe sometimes you'd like a bit more of information on specific subjects (Ofsted, autism, mental health…) but can't find the time or right place to look for help? Yes, we've all been there. That's why at Kinderly we work closely with accredited, trustworthy professionals that have first-hand experience in working in early years, so we can give you the support you need to be outstanding. 
Let's meet our lovely team of experts: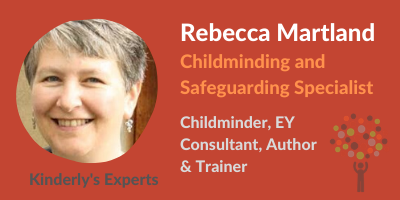 Rebecca has 20 years' experience in the early years sector: as a childminder, she has received an Outstanding grade from Ofsted for four consecutive inspections. She is an early years consultant, trainer, author and Nursery World Awards judge. She is also a qualified teacher and Early Years Professional. Rebecca is a staunch advocate of play based, child-centred education and childcare. This philosophy is at the centre of her training and a message she shares widely as an active member of the early years community.
Read Rebecca's articles: 
https://kinderly.co.uk/2020/03/31/how-to-maintain-a-daily-routine-for-children-during-covid-19/
https://kinderly.co.uk/2020/03/05/all-you-need-to-know-about-cpd-in-early-years/
https://kinderly.co.uk/2019/09/10/sharing-digital-information-with-an-ofsted-inspector/
https://kinderly.co.uk/2019/08/22/myth-busting-with-the-new-ofsted-eif-for-early-years/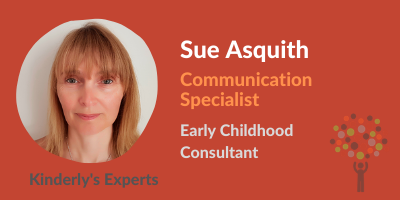 Sue is an early childhood consultant and author. Starting her childcare career in 1998 as a registered childminder, she gained two consecutive Ofsted Outstanding gradings before giving up her registration in 2015 to concentrate more on her mentoring, consultancy, training and assessing work. 
Sue achieved Early Lead Language Practitioner status working on the Every Child a Talker programme and has worked on DfE funded projects for PACEY, NDNA, ICAN and the Communication Trust delivering a range of programmes, including safeguarding, SEND, communication and language.  Sue's book 'Self-Regulation Skills in Young Children' explores self-regulation, brain and child development, behaviour along with practical activities to try to help build self-regulation.
Read Sue's articles:
https://kinderly.co.uk/2020/02/11/supporting-speech-language-and-communication-in-early-years/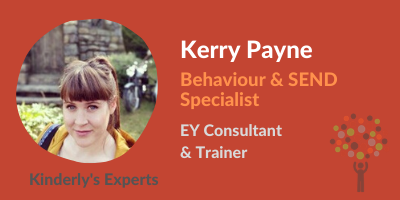 Kerry is an experienced consultant and trainer for Early Years Education and NASEN, with a specialist knowledge in social and emotional behaviours and SEND. Her early career was spent in nurseries and schools working as an early years teacher and manager. She has a MSc in Applied Psychology and is working towards her PhD in Early Education and Developmental Delay.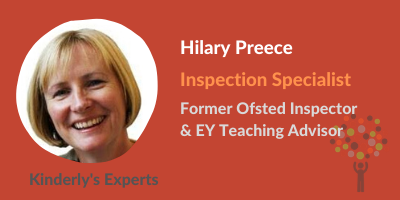 Hilary is an experienced early years professional having worked in the early years sector for 20 years, including over 14 years as an Early Years Ofsted inspector. She began her early years career as a childminder and has a wealth of experience in inspecting childminding and PVI settings. Hilary has also worked in Children's Centres as an Early Years Teaching Advisor supporting early years settings to deliver the EYFS and improve quality. She has a BA Honours in Early Childhood Studies and currently works as an independent Early Years Consultant helping settings to prepare for inspection and support quality improvement.
Read Hilary's articles:
https://kinderly.co.uk/2019/08/16/using-technology-with-ofsteds-new-education-inspection-framework-eif/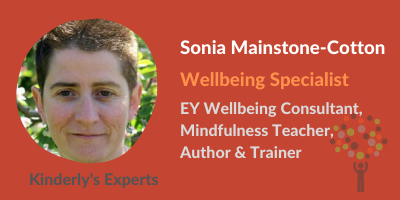 Sonia is an early years trainer and consultant, specialising in early years wellbeing. As a qualified mindfulness teacher and experienced nurture consultant, Sonia supports both children and adults with their emotional wellbeing. Her publications include 'Promoting Emotional Wellbeing in Early Years Staff', 'Promoting Young Children's Emotional Health and Wellbeing' and 'Listening to Young Children in Early Years Settings'. Sonia holds both a BA Honours in Early Childhood Studies and an MA in Early Years Education. You can read her wellbeing blog here.
Read Sonia's articles:
https://kinderly.co.uk/2020/04/07/supporting-yourself-and-your-family-through-covid-19/
https://kinderly.co.uk/2019/10/10/how-to-support-childrens-wellbeing-and-mental-health/
Want to see how Kinderly can support you? Head over to our blog for the latest early years updates or try our award-winning nursery management platform, Kinderly Together for free.

Oh! And if you have any questions, we're only a click away : )