Minimising gender stereotypes in early years settings: The Gender Friendly Approach
Wednesday 21st Apr 2021 @ 8:00 pm

-

9:00 pm

FREE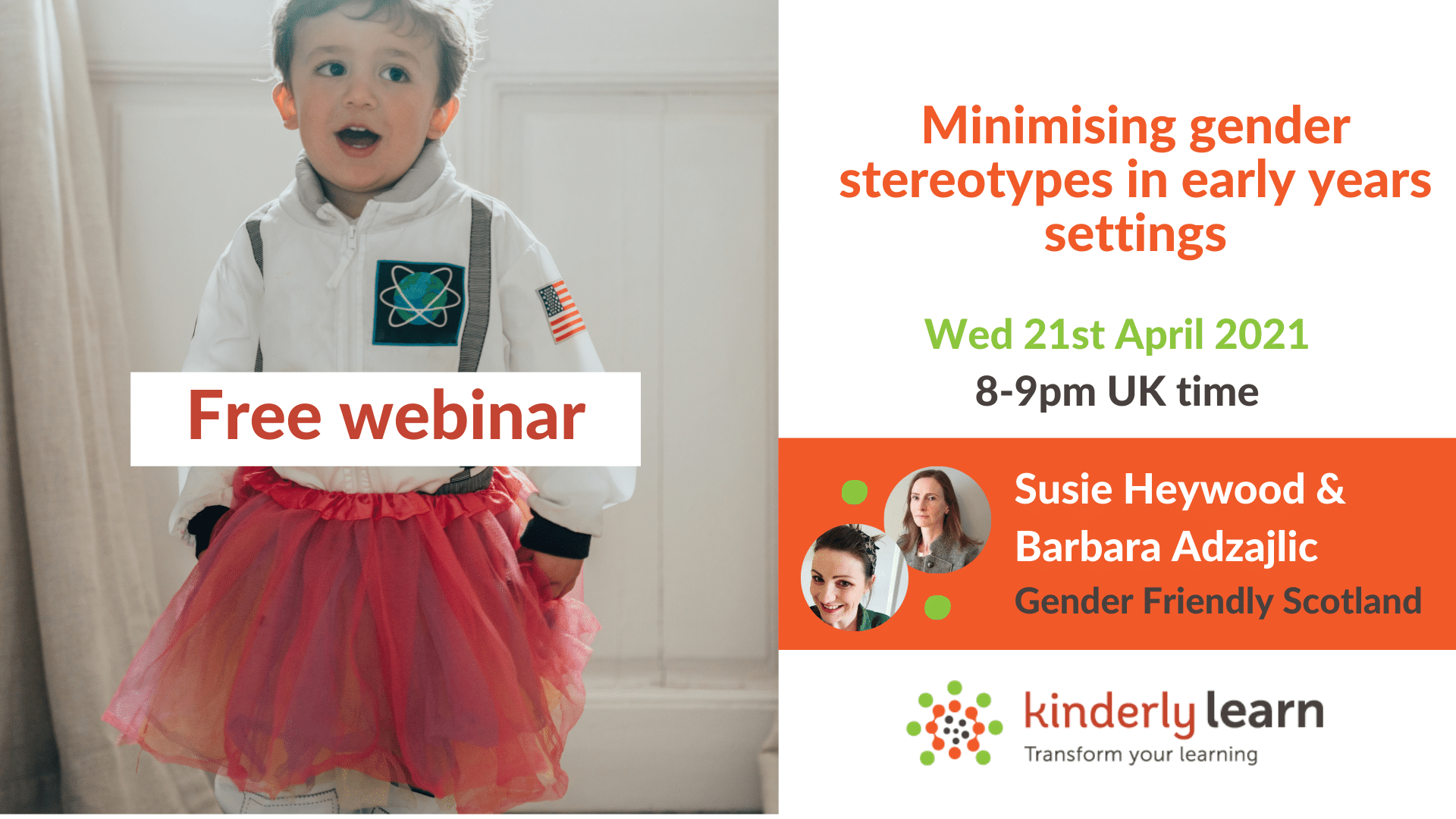 From the time they are born, children receive messages from the world and people around them about what it means to be a girl and what it means to be a boy. Gender Friendly Approach aims to tackle such gender stereotyping and ensure that children and staff in early years settings are not in any way limited because of their gender. In this webinar, co-founderd Susie Heywood and Barbara Adzajlic will share some of the key concepts of the gender-friendly approach, including:
An eye-opening exploration of the ways in which gender stereotypes are perpetuated across society;
An introduction to some of the harms associated with gender stereotypes and why we must challenge them;
What we mean by an equitable approach and why it may be the most effective way to tackle gender stereotyping in the early years.
The webinar will provide some simple tips and suggestions for how ALL early years practitioners can make changes to their practice which may make big differences to the children in their care.
Register to attend this FREE webinar:
About the speakers
Susie Heywood and Barbara Adzajlic are co-founders of  Gender Friendly Scotland.  They have a professional background in public health and experience of prevention work on a range of topics including poverty, gender-based violence, mental health, parenting and equalities. Inspired by a conference they both attended, they came to understand how gender inequality lies at the root of many of our big public health issues and see tackling gender stereotyping in the early years as one way we might begin to make a difference. Together they created the Gender Friendly Nursery for NHS Greater Glasgow & Clyde,  which offers training and support to early learning and childcare settings to improve practice around gender stereotyping. They are now working together as Gender Friendly Scotland to promote ways in which everyone can take a gender-friendly approach.
Related Events